What is the process of polished aluminum checker plate
2019-06-13 16:35:06
Maybe you are familiar with aluminum checker plate. Also known as floor plate, tread plate or checker plate, aluminum diamond plate features a pattern of raised diamonds on one side and no texture at all on the reverse. This lightweight metal stock is typically made from aluminum, but it can also be made from steel and stainless steel.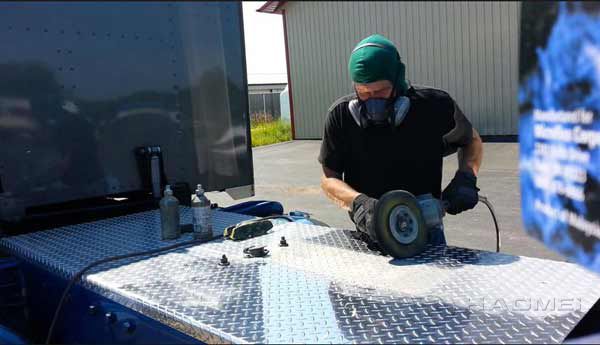 Aluminum checker plate has a number of uses. You may have seen it on catwalks or on stairs in a construction or industrial setting. The texture created by the diamond shapes give workers added traction, reducing slippage. Diamond plate is also used decoratively. Many steel construction tool boxes utilize this material on the exterior of their products. It can also be seen frequently on the inside of ambulances, delivery trucks and fire trucks.
What is the process of polished aluminum checker plate ?
1. Take a piece of carpet (I used cut berber) and put it on an electric palm sander.
2. Put about a tablespoon of Mothers on the carpet and turn the sander on.
3.Rubbing in all directions pressing very hard. After that, just take a clean towel and remove the polish.