United against covid-19,haomei in action
2020-03-27 11:35:26
United against covid-19,haomei in action
The global economy has long been integrated, and the world has become a global village. At this moment, every member of haomei, our love to the heart of every customer around the world. Therefore, regardless of the current and the next order will be what kind of business development, haomei are focusing on this client countries epidemic situation, understand the local epidemic, to provide customers with masks, goggles and other temperature measuring gun, epidemic prevention, epidemic prevention object such as disposable gloves, all of us make joint efforts to actively heartfelt good service to our clients,
In the past month Haomei purchased thousands of masks from every possible channel and sent them to our clients abroad in United State, Italian, Germany,Chile, Mexico,UAE,Saudi Arabia and South Korea. so we keep receiving letters of thanks from our friends.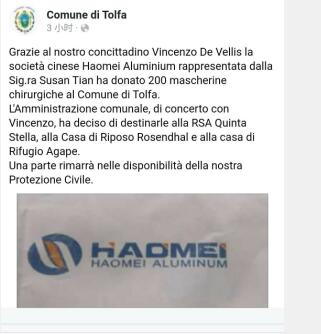 we are the only important value, is ready to service, service can be bigger. The global epidemic will not end one day, and we are all victims. Every member of our team of haomei, from the heart, positive, the attitude of the right, dedicated, pure voluntary service to the customer, not for any benefit, not for any purpose! We don't need profits, we just need to export our Chinese, our gallant love!
I believe that with the joint efforts of all of you, we will defeat the epidemic soon!