Aluminum Circles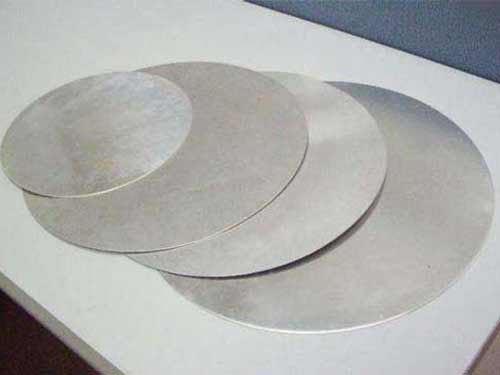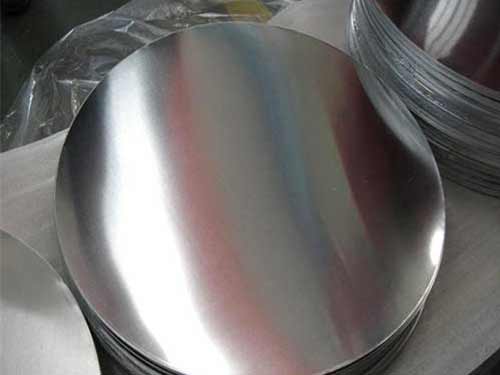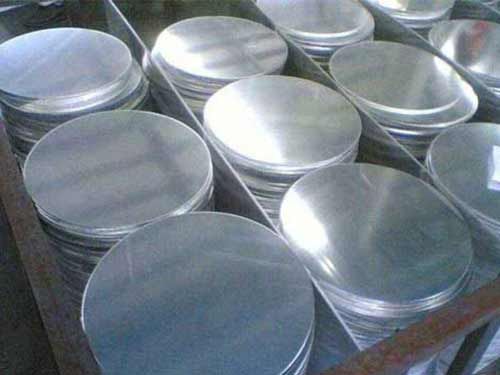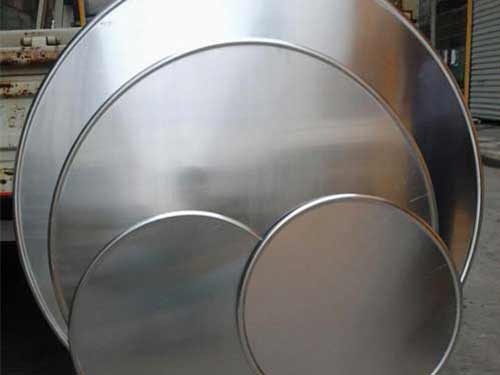 | | |
| --- | --- |
| Alloy | 1050,1060,1070, 1100,3003 |
| Temper | O,H12,H14 |
| Thickness | 0.36-10mm |
| Diameter | 20-1200mm |
| Application | Suitable for making pots, pans, pizza trays, pie pans, cake pans, covers, kettles, basins, fryers, light reflector |
| Port | Qingdao, China |
| Origin | China Henan |
| Trademark | Haomei |
| Payment Terms | L/C, T/T, D/P |
We are Aluminum Circle Suppliers and manufacturer. We provide supreme quality aluminum circles , which would meet your needs for making cookware such as pots, pans, fryers , utensils, Non-stick pan/pot, Bowl or cup, traffic sign and so on.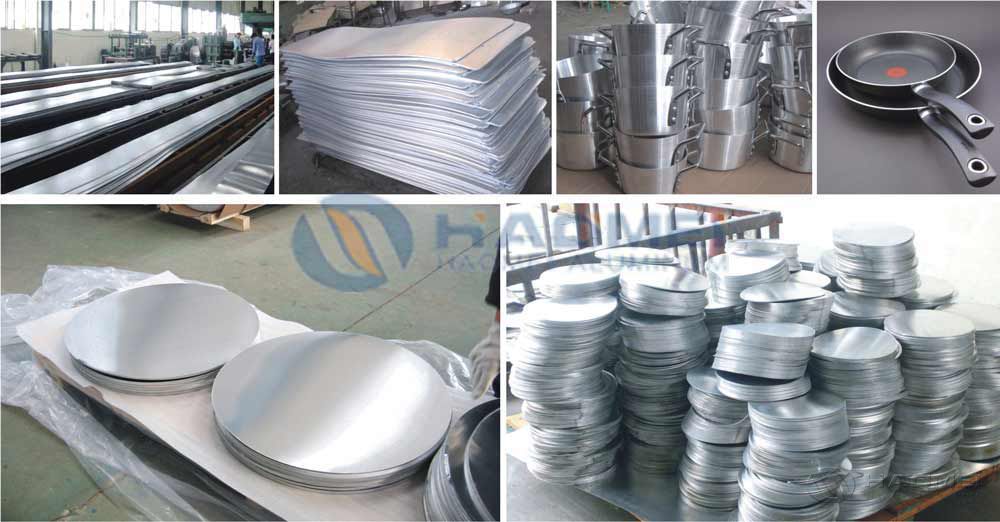 Available alloy, temper, thickness, diameter
Alloy
Temper
Thickness
Diameter
1050,1060,1070,
1100,3003
O,H12,H14
0.36-10mm
20-1200
Remark: special specifications can be produced according to your requirement
Chemical Composition
Alloy
Si
Fe
Cu
Mn
Mg
Cr
Ni
Zn
Ca
V
Ti
Other
Min.A1
1050
0.25
0.4
0.05
0.05
0.05
-
-
0.05


0.05
0.03
0.03
99.5
1060
0.25
0.35
0.05
0.03
0.03
-
-
0.05
-
0.05
0.03
0.03
99.6
1070
0.25
0.25
0.04
0.03
0.03
-
-
0.04
-
0.05
0.03
0.03
99.7
1100
0.95
0.95
0.05-0.2
0.05
-
-
-
0.1
-
-
-
0.05
99
3003
0.6
0.7
0.05-0.2
1.0-1.5
-
-
-
0.1
-
-
-
0.15
96.95-
96.75
Aluminum Circle Specifications

Alloy: 1050, 1060, 1070, 1100, 3002, 3003, 3004, 5052A, 5052, 5754, 6061
Hardness: O, H12, H14, H16, H18
Thickness: 0.012" - 0.15" (0.3mm - 4mm)
Diameter: 3.94" - 38.5" (100mm -980mm)
Surface: Polished, Bright, Anodized
Usage: Suitable for making pots, pans, pizza trays, pie pans, cake pans, covers, kettles, basins, fryers, light reflectors
Stamping: Materials include: steel, galvanized steel, aluminum, aluminum alloy and other metals
Aluminum Circle Application:
Aluminum Circle is mainly used for general commercial and industrial uses, like the capacitor case, toothpaste case, medical tubes, kitchen ware, spray bottle, cosmetic case and glue tube case,road sign, cookware, pot, pan, decoratating and so on . With high quality casting and rolling coils or hot-rolled coils as raw materials ,it goes through different cold rolling deformation. slitting, annealing and finally stamping into an aluminum disc, then packaging for delivery.
These Aluminum Discs are made from very high-quality raw material that ensures high durability for users which is why the discs provided by us are high in demand for making cookware products. We, as one of the leading Aluminum circle suppliers, continuously strive to provide the highest quality of aluminum products, therefore, have relationships with only the best aluminum circle/disc suppliers to uphold the international quality parameters in ASTM and ISO certifications.
Stamping
Stamping is a method of machining finished pieces by feeding sheet metal, typically from a roll, through a series of stations. These stations may include stamping, bending, cutting, and other shaping techniques, and are carried out in a specific order along the path of the sheet metal.
We specialize in mill quantity orders of Aluminum products to give our customers the best prices possible. We can fulfill your long-term needs at prices that will give you the competitive edge. What's more, it is our high standards which makes us the single best choice for aluminum circles and much more. It's because of this, we enjoy a cultivating a healthy relationship with our new customers, along with our loyal, repeat customers.
We are the right place with plenty of product offerings for many industries, as well as end applications. We offer speedy processing and shipping, which makes us a preferred choice, particularly among our loyal, repeat customers. We take the time to understand what each order requires and then work diligently to provide the best quality and finish possible. What's more, HMAluminum can readily ship the products right away so there's little to no lag time. We deeply understand how critical it is to move fast to get the products needed, wherever that might be on the globe.
When it comes to delivering the best aluminum circle products, there is simply no better source than HMAluminum. Our team is here to help with all your metal supplies and products. No matter the size or the specifications, HMAluminum is here to deliver what's needed and when it's needed. So, regardless of what kind of aluminum circles are required for a project or application, we do our part to deliver.