Aluminum slug impact extrusion tube manufacturing capabilities
2019-06-13 16:34:17
The aluminium slugs highest product quality, flexibility and absolute reliability in meeting deadlines are our top priority-HAOMEI Aluminium.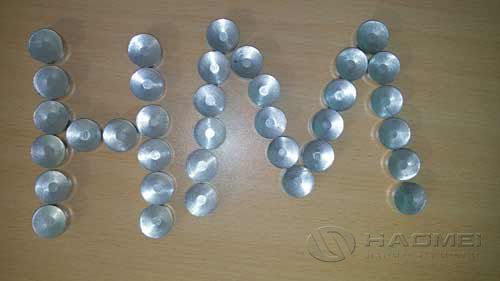 Aluminium slugs– preform for the production of aluminum tubes, aerosol cans and monoblocks.The wide range of different facilities and high-accuracy equipment allows to produce tube preforms of different types and diameters.can be customized in shape and size according to requirenents of clients. It has excellent anti-corrosion, attractive appearance, and good flexibility and tractility. It is widely widely used for the manufacturing of aluminum containers or Collapsible aluminum slug impact extrusion tube, pharmaceutical, beverage containers, and many other packaging solutions. Quality is well approved by SGS and CE.
Our production equipment allows to produce aluminium slugs with diameter from 13.3 to 44.8 mm and a thickness of 3.5-7.3mm
The application area of aluminium slugs
Production of tubes for pharmaceutical and cosmetic products, food products, household chemicals, tooth paste;
Production of aerosol tubes for deo sprays, hair care products, medicines, food products and products of household purpose.
Why choose us for aluminum slug impact extrusion tube
High quality feedstock
In production we use only primary aluminum alloy А7 (99.7%) without adding of any secondary raw materials.
Different types of aluminium slugs
We specialize in the production of solid round slugs (without holes) for manufacturing of tubes with aluminum membrane. The slug is produced by stamping technology.
We pack the finished aluminum slugs in various types of packaging by agreement with the customer:
Corrugated boxes;
big-bags;
other options according to the customer's demand
Slugs deliveries
Delivery of the finished slugs are carried by different kinds of transport by agreement with the customer:
road transport (European vans);
container transportation;
the delivery of small small batches by means of transport companies by car or by rail;
other transportation options according to the customer's demand.